The wholly owned subsidiary of COLOPL, Inc. (HQ: Minato City Tokyo; CEO: Takashi Miyamoto), Brilliantcrypto Inc. (HQ: Minato City Tokyo; CEO: Naruatsu Baba 2023) announced its new blockchain game "Brilliantcrypto" at the global Web3 conference "WebX" (held on 25/07/2023).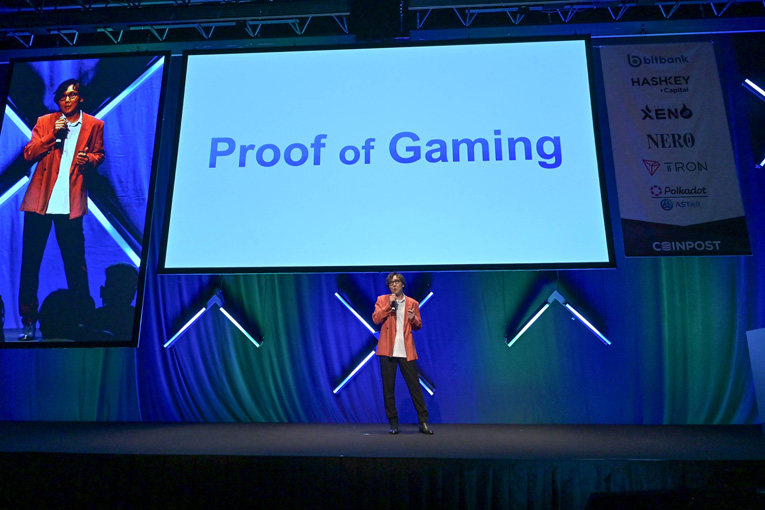 Brilliantcrypto is a blockchain game aiming for sustainable play-to-earn, using the new "Proof of Gaming" model. "Proof of Gaming'' is inspired by Bitcoin's consensus mechanism "Proof of Work," and creates societal value through guaranteeing the value of digital gemstonesーtherefore allowing the large-scale global project from Japan to create economic value in the Metaverse.
At the WebX presentation, COLOPL, Inc. Founder/Chairman and Brilliantcrypto, Inc. CEO Naruatsu Baba took to the stage, and explained the details of the project as well as showing the game's reveal trailer for the first time.
 Furthermore, as there are no borders in the Metaverse, global recognition is essential for delivering real economic value to the metaverse, so in order to allow the Japanese project to succeed on the global stage, he also announced Brilliantcrypto's powerful global partnership with the football club "Paris Saint-Germain" as an "OFFICIAL PREMIUM PARTNER."A talk session was also held with two representatives of the club, Managing Director of Paris Saint-Germain in Asia Pacific, Sébastien Wasels, and former Paris Saint-Germain and Cameroon player, Patrick M'boma.
Prime Minister of Japan Fumio Kishida also delivered a keynote speech at the WebX event through a video message, and referred to the Brilliantcrypto project in his speech: "An attractive, large-scale project that will deliver economic value in the metaverse will be announced to the world." This reference also helped gather attention on the presentation.
【Contents of the Presentation】
Naruatsu Baba, CEO of Brilliantcrypto, Inc.
Thank you for coming to the presentation of our product today. I feel extremely pleased that our product received a mention by Prime Minister Fumio Kishida in his keynote speech this morning. The product we are announcing today will most likely be released at the beginning of this year, but I feel reinvigorated nonetheless to continue to do our best.
■By following Bitcoin's example, can we not bring gemstones to the digital world as well?
The keyword of our product is "Proof of Gaming." Right now, Web3, Metaverse and AI technology are creating a buzz throughout the world. I believe that these three technologies complement each other in a way that is building a new future for humanity, and may end up bringing humans into the virtual world. I can't comment on whether that would be 5 or 10 years later, but there is something I'd like to do when this comes about. I think that there will be a desire to bring brand items, or other items that are somewhat authentic into the metaverse and use them in digital space. There will then come a time when a sense of ownership over digital items, or how good digital items look will not be valuable if the item is not authentic. That is why businesses and brand owners, with this future in their sights, ar selling products as NFTs.
However, there are items that exist in the real world which have no entity to guarantee their existence, but exist throughout the world, and the question of whether they are authentic or not is extremely important.
The items I'm referring to are "Precious metals" and "Gemstones." Even if they have an owner who wears them on their body, no one has the initial "rights" to them. This is because they have existed on this planet since before humanity walked the earth. For example, if you tried to make diamonds into an NFT, even if someone says they are the real thing, no one can believe it. If things carry on this way with virtual worlds, high-jewelry brands will be in trouble. And this is the problem that we want to fix. We want to create a service that guarantees the value of many different gemstones in digital data. And we want to make this a reality using the power of gaming and AI.
The truth is, there's something out there that looks similar and came about in a similar way. By this, I'm talking about Bitcoin, which essentially came into the world as currency, but as it now holds a strong status as an investment asset, it's more often referred to as "digital gold." So, in a way it is a precious metal just like gemstones after all. Of course, there is the difference between fungible and non-fungible, but I consider the two to be basically the same thing. So I initially thought, if we follow in Bitcoin's steps, couldn't we also bring gemstones to the digital world? Bitcoin's existence is verified through the "Proof of Work" mechanism. I think that this extraordinarily simple and unique mining mechanism, whereby a small amount of Bitcoin can be earned through a vast amount of hash calculations and verifying other people's transactions is Bitcoin's greatest attraction point. I considered that we could achieve our goal with our product simply by doing exactly the same thing, but the hash calculation part does cause many different problems. Since power is necessary for hash calculations to be effective, mining can now only really be carried out by those who do it as a job, and those acting individually can't make a big enough impact. Furthermore, the process uses an extreme amount of energy, and is considered bad for the environment.
■Bringing Proof of Gaming to life by "Mining from Bitcoin's Block Hash"
When thinking about creating gemstones in the digital world, I felt that by replacing the calculation part, in other words the "Work" in proof of work, with gaming, the individual would be able to actually continuously enjoy carrying out the mining. This is the keyword "Proof of Gaming."
Since we're putting "Proof of" in the name, everything must be strict. "Strict" and "Game" are contrary words, though. To put it simply, there would be a big problem with the game if we, the operators of the mining areas, were to generate gemstones of our own volition. To speak in terms of Bitcoin, this is the same as a situation where someone actually knew all the answers to the block hash calculations. In that situation, Bitcoin could never be possible. It's because no one actually knows the answer and that you have to use a machine to perform those calculations that Bitcoin is possible. So I spent some time mulling over potential answers to this problem, and that's when I happened upon it. "Mining from Bitcoin's Block Hash." If you use the blockchain data from Bitcoin that already exists, and continues to grow, I had the idea that it should be possible to fix this problem. With that, it becomes impossible to predict the results, but it is also possible to reproduce results with open-source logic, and even if you are a developer, you couldn't cheat and create gemstones.
It's the completion of an algorithm which makes it so gemstones cannot be created unless users mine. To manage the game, there will need to be some arbitrary adjustments, but by allowing AI to make these decisions, I believe we can move closer to a more decentralized style of game management. Essentially, by using blockchain data as it is, we create a world where we cannot change the rules for receiving gemstones, where users must mine in order for gemstones to be created, and where gemstones that have been mined will remain forever. I truly think that to mine from Bitcoin's block hash has a very deep meaning to it. Bitcoin is data that is very useful to people, and has been created through harnessing the strongest power on earth. That's where we will be mining from. In a word, I find that to be very "stirring," and it is the part of the project that I love the most.
Let me also explain about "Sustainable Play to Earn." In Bitcoin, through carrying out hash transactions verifying transactions, therefore allowing Bitcoin to be possible, people can receive Bitcoin as a reward. In our project, participants will play games to bring something that didn't previously exist out into the world, and receive rewards for it. I believe these are both doing the same thing at their core. There is no one who uses Bitcoin like a Ponzi scheme, or gambles with it. In the same way, I believe that Brilliantcrypto's Proof of Gaming must therefore also be the same.
Next, let me discuss the roadmap. We'd like to release the mining part of the game most likely at some point early on next year. Delays are always a possibility, but if possible we'd like to aim for around February next year. With that first phase, the miners from around the world will begin to mine. But what comes out when people mine in the game will only be the rough gemstones themselves, so in Phase 2, we are planning to create features where you can design jewelry. The concept of gathering NFTs in order to create NFTs is extremely interesting, and I think they will become easier to use. Furthermore, this is based on the premise that we have the support of the users, but in Phase 3, we wish to expand to working with metaverses that are popular at that time, making it possible to actually use the gemstones that have been mined.
This is our master plan. Furthermore, in Phase 4, it could become possible for us to create and sell digital jewelry designed by luxury jewelry brands by using the diamonds, rubies and emeralds that have been generated through this project. If this comes to fruition, it would be a point that shows this project to have been a great success. I do think that things would have to go well, and perhaps 5 to 10 years would have to pass for this to happen. But we will continue to aim for these goals and do our very best to achieve them.
■Receiving unprecedented feedback through closed testing
We have already announced this to our global partners, such as Coincheck and Polygon, but in order to check that this product is appealing to the global audience since this is a global release, we held a closed alpha test around 2 months ago. It was the first time that I felt true fear while awaiting people's feedback as a game developer, but the results ended up being extraordinarily positive. For example, this game says that Proof of Gaming and Proof of Work are equals, but hash calculations are incredibly difficult, so the gameplay is also incredibly difficult. I wondered if people would actually clear the closed beta test, but over 85% of our testers played this frustrating game, and cleared it even though there is nothing to earn yet. Furthermore, they told us it was interesting, and that they wanted to recommend it to their friends. I've made around 100 games up until now, but I've never been given such positive feedback before as a result of a pre-launch beta test. We've checked that the game is interesting, and the users also fully understand the Proof of Gaming concept, so I believe we're onto something here. We will launch a global Closed Beta Test in August. The registrations open from today, so we would be extremely grateful if you could sign up, and see Proof of Gaming in action.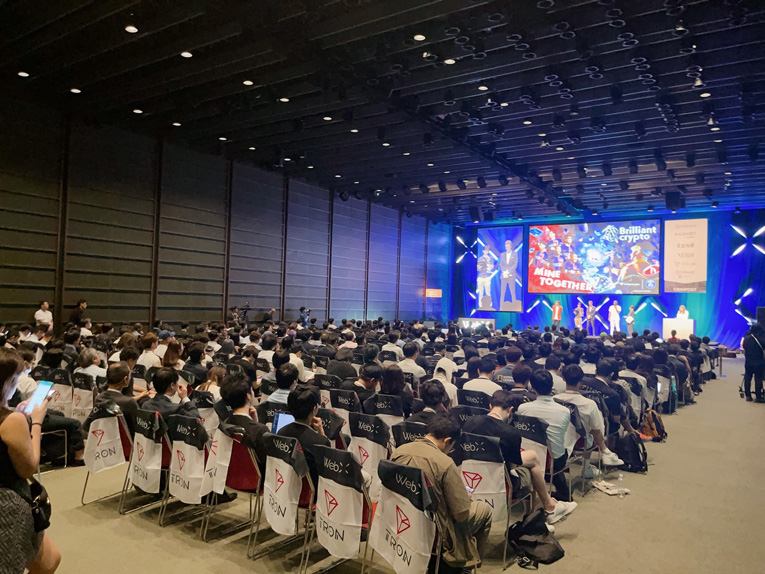 ■Contract with Paris Saint-Germain as Global Partners
We did partner with guilds across the world to bring in international players, but although Japanese players joined us straight away, players from South America or Southeast Asia were not so easy to find. This is simply just a problem of brand recognition. The video that I showed you earlier has been released, and lots of people have joined us, but even if we release this game, if we don't have global brand recognition it will most likely be difficult to carry out globally. So, as a global partner to help us with this issue, we have signed a contract for a partnership with Paris Saint-Germain. Paris Saint-Germain is a football club where the top players from around the world gather. In more detail, star players who are very popular in the regions we are targeting such as South America and Southeast Asia are gathered there. I have great expectations that, by having those players take part in promotional activities with us, we can grow our brand recognition overseas, and we can plant the seeds necessary for global audiences to accept our project.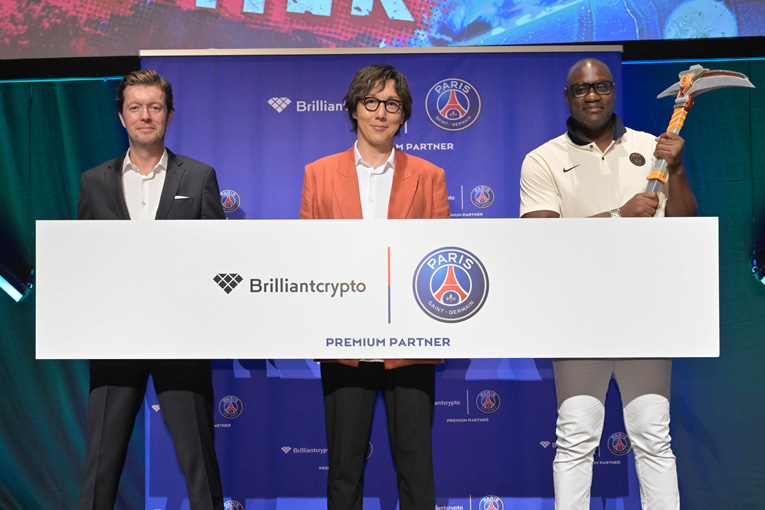 From the left: Sebastien Wasels, Naruatsu Baba, Patrick M'boma
Sébastien Wasels, Managing Director of Paris Saint-Germain in Asia-Pacific
We are delighted to welcome Brilliantcrypto as the new Premium Partner of Paris Saint-Germain. This partnership represents the 12th deal signed by the Club's Asia Pacific office since its opening, highlighting the strong positioning of Paris Saint-Germain in the region. It is an honor to have an ambitious partner like Brilliantcrypto place its trust in our Club to promote its brand and bring forth a revolutionary game that will allow our fans around the world to interact with the club on a whole new level. With its unique positioning as a lifestyle brand, a strong presence of over 200 million fans on social media and a growing permanent and physical presence in many countries such as Japan via official stores and PSG academies, Paris Saint-Germain has strengthened its ability to support its partners and their objectives worldwide. We look forward to working together with Brilliantcrypto to develop creative and impactful campaigns. There are many people that love both Paris Saint-Germain's players, and also games, so if this game is released, I believe that people will want to mine.
Patrick M'boma, Former Paris Saint-Germain and Cameroon Player
I think that Paris Saint-Germain is an incredible brand.
There are two important things here about their partnership with Brilliantcrypto.
The first is the gaming industry, and the second is about the esports industry.
As a player, you can choose two industries as a player. But I think that we can also bring players to the world of crypto using an appeal never seen before. This is a one-of-a-kind collaboration, and I personally feel the game is extremely well made, so I think that great results will be created by this partnership.

You can watch the presentation delivered by the CEO of Brilliantcrypto, Inc. Naruatsu Baba at the link below. https://www.youtube.com/live/0iEFIMpkf9Q?feature=share&t=249
【For Reference】
Game Overview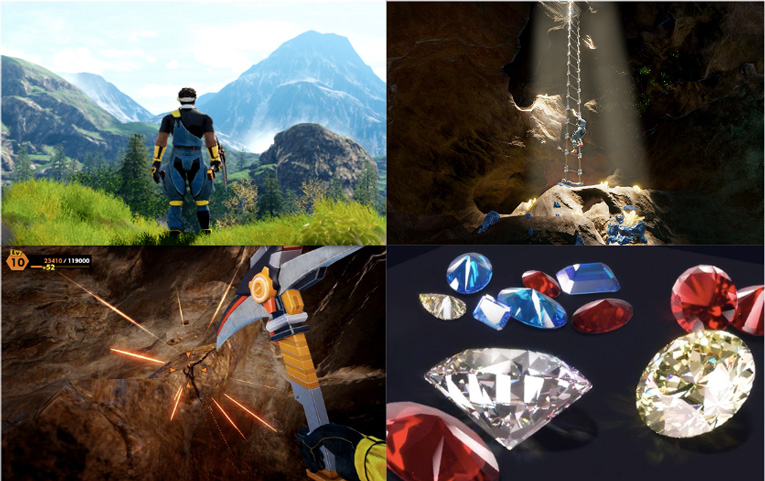 Brilliantcrypto is a blockchain game where players around the world become miners and excavate the mines with the aim of finding gemstones and tokens. Users buy pickaxes in the in-game marketplace, and use items like the "detector" while carrying out mining. By mining, players can obtain tokens and gemstones, and there will be the possibility to bring the gemstones, which can turn into NFTs, into many different metaverse worlds. There will also be the possibility to buy and sell the gemstones, as well as use them.
What is "Proof of Gaming"?
Simply put, "Proof of Gaming" is the game model version of "Proof of Work," ※2 which is Bitcoin's consensus algorithm. In Bitcoin, mining is carried out in the form of a tremendous amount of hash calculations, which in turn guarantees value on the blockchain. Similarly, in Brilliantcrypto, mining will be carried out in the form of people throughout the world playing the game, which will guarantee the value of gemstones in the digital world.
Generating Economic Value In the Metaverse with "Proof of Gaming"
The metaverse is currently being developed, and we believe that one reason that could be given for it not fully catching on yet is that there is currently no "economic value." If the value of digital world gemstones is guaranteed by "Proof of Gaming," it becomes possible to use them not only in-game, but also in many different metaverse worlds, and so it becomes possible to exchange them and use them. Therefore, the more exchanges begin to take place, the more the demand for gemstones with value will grow, and the more people from around the world will gather to play the game. We believe that through this cycle, "Proof of Gaming" will be activated further and as a result, true economic value will be generated in the metaverse.
Realizing Sustainable Play-to-Earn
In recent years, "play-to-earn," which made it possible to earn money while playing games using a combination of blockchain technology and cryptocurrency, has been gathering global attention. On the other hand, there has existed a sustainability issue with play-to-earn, as the system only allows individual, early adopters to actually make a profit. Through guaranteeing the value of digital world gemstones with Brilliantcrypto's "Proof of Gaming" model, societal value will be generated and brought out into the world. That is why we believe sustainable play-to-earn can finally be made a reality.
About the Closed Beta Test
We carry out a closed beta test before the official service launch.
■Closed Beta Details
・Amount of spots: Limited availability expected
・Beta Test Period:
 1st Test: Tues. 15/08/2023 06:00 〜 Tues. 22/08/2023 05:59 (UTC)
 2nd Test: Tues. 12/09/2023 06:00 〜 Tues. 19/09/2023 05:59 (UTC)
 3rd Test: Tues. 10/10/2023 06:00 〜 Tues. 17/10/2023 05:59 (UTC)
・Clear Reward ①: Win ¥5000 worth of ETH (receivable by all who clear)
・Clear Reward ②: Enter a lottery, where 6 lucky players will win 2 VIP tickets to watch PSG play in France, in the tournament that decides the top European football team (return flight tickets included).
■Closed Beta Application Page
■Game Website
1: Play-to-earn is a concept which describes games which make it possible to earn through gameplay, made possible by integrating blockchain technology with crypto assets.
2: Proof of Work (PoW) is one of the consensus algorithms that allows crypto assets to be mined. It allows the transaction and sending of crypto assets, starting with Bitcoin, to be correctly recorded on the blockchain through calculations and verification work. This calculation and verification work is called "mining," and those who carry it out are called "miners." PoW is the process in which agreement is reached that the data is correct between the miners through mining.
■About Brilliantcrypto, Inc.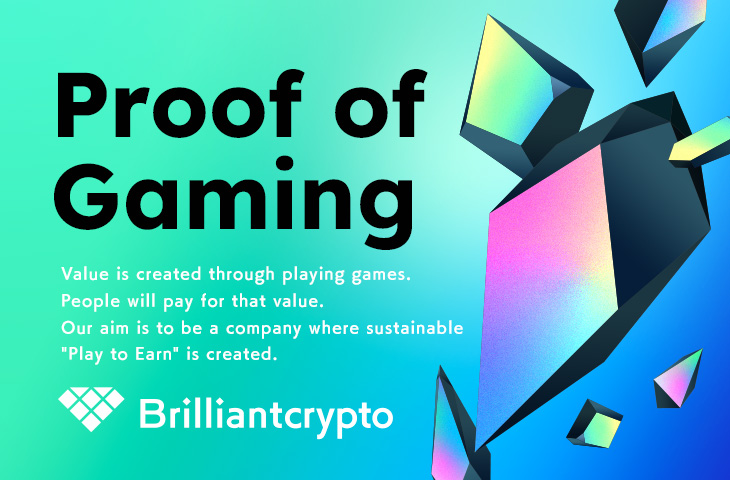 Brilliantcrypto was established in November 2022 as a wholly owned subsidiary by COLOPL, Inc. to carry out GameFi projects using blockchain technology. It was established to take on the challenges of blockchain gaming, and create games that truly shine and stand out. Using both blockchain technology, and the bountiful knowledge gained through the COLOPL group's many years creating video games, we will create new value on a global scale.
Company Name: Brilliantcrypto, Inc.
Headquarters: Tokyo, Minato City, Akasaka 9-7-2, 5F & 6F Midtown East
Founded: 2022/11/09
Executive Director: Naruatsu Baba
<Point of Contact regardings inquiries from the media on this release>
Brilliantcrypto PR Representative: Hugo Church, Naoki Nose, Yasuhiro Noguchi
Mail:press.contact@brilliantcrypto.net