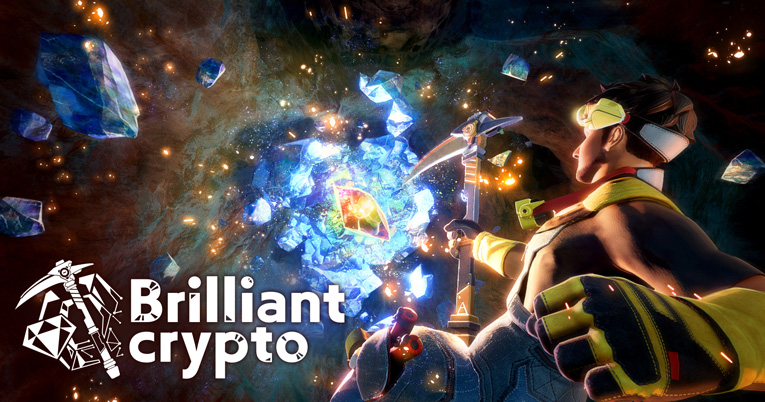 The wholly owned subsidiary of COLOPL, Inc. (HQ: Minato City Tokyo; CEO: Takashi Miyamoto), Brilliantcrypto, Inc. (HQ: Minato City Tokyo; CEO: Naruatsu Baba), announced its new blockchain game "Brilliantcrypto," which introduces the new "Proof of Gaming" concept at the global Web3 conference "WebX" (held on 25/07/2023).
Game Overview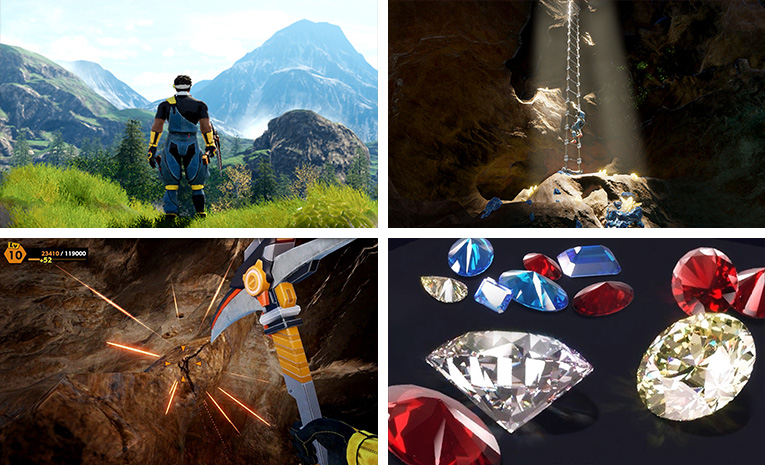 Brilliantcrypto is a blockchain game where players around the world become miners and excavate the mines with the aim of finding gemstones and tokens. Users buy pickaxes in the in-game marketplace, and use items like the "detector" while carrying out mining. By mining, players can obtain tokens and gemstones, and there will be the possibility to bring the gemstones, which can turn into NFTs, into many different metaverse worlds. There will also be the possibility to buy and sell the gemstones, as well as use them.
What is "Proof of Gaming"?
Simply put, "Proof of Gaming" is the game model version of "Proof of Work," ※2 which is Bitcoin's consensus algorithm.
In Bitcoin, mining is carried out in the form of a tremendous amount of hash calculations, which in turn guarantees value on the blockchain. Similarly, in Brilliantcrypto, mining will be carried out in the form of people throughout the world playing the game, which will guarantee the value of gemstones in the digital world.
Generating Economic Value In the Metaverse with "Proof of Gaming"
The metaverse is currently being developed, and we believe that one reason that could be given for it not fully catching on yet is that there is currently no "economic value." If the value of digital world gemstones is guaranteed by "Proof of Gaming," it becomes possible to use them not only in-game, but also in many different metaverse worlds, and so becomes possible to exchange them and use them. Therefore, the more exchanges begin to take place, the more the demand for gemstones with value will grow, and the more people from around the world will gather to play the game. We believe that through this cycle, "Proof of Gaming" will be activated further and as a result, true economic value will be generated in the metaverse.
Realizing Sustainable Play-to-Earn
In recent years, "play-to-earn," which made it possible to earn money while playing games using a combination of blockchain technology and cryptocurrency, has been gathering global attention.
On the other hand, there has existed a sustainability issue with play-to-earn, as the system only allows individual, early adopters to actually make a profit. Through guaranteeing the value of digital world gemstones with Brilliantcrypto's "Proof of Gaming" model, societal value will be generated and brought out into the world. That is why we believe sustainable play-to-earn can finally be made a reality.
About the Closed Beta Test
We will carry out a closed beta test before the official service launch.
Therefore, from today until Monday 08/08/2023 05:59 (UTC), we are accepting applications to participate in the beta.
■Closed Beta Details
・Application Period: Tues. 25/07/2023 05:00 〜 Tues. 08/08/2023 05:59 (UTC)
・Amount of spots: Limited availability expected
・Beta Test Period:
 1st Test: Tues. 15/08/2023 06:00 〜 Tues. 22/08/2023 05:59 (UTC)
 2nd Test: Tues. 12/09/2023 06:00 〜 Tues. 19/09/2023 05:59 (UTC)
 3rd Test: Tues. 10/10/2023 06:00 〜 Tues. 17/10/2023 05:59 (UTC)
・Clear Reward ①: Win ¥5000 worth of ETH (receivable by all who clear)
・Clear Reward ②: Enter a lottery, where 6 lucky players will win 2 VIP tickets to watch PSG play in France, in the tournament that decides the top European football team (return flight tickets included).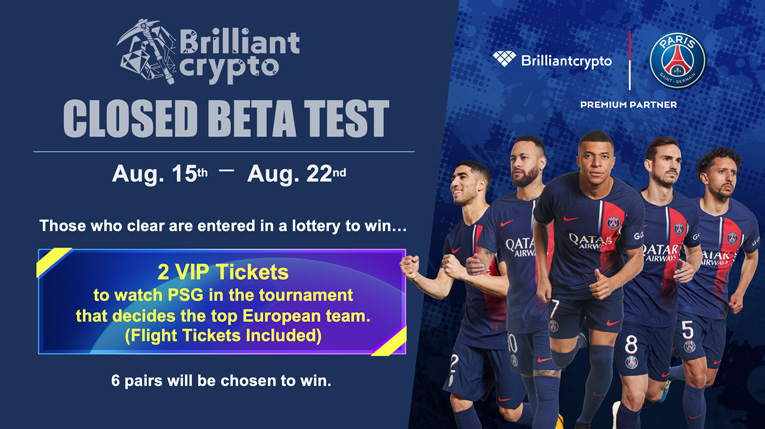 ■Closed Beta Application Page
■Game Website
1: Play-to-earn is a concept which describes games which make it possible to earn through gameplay, made possible by integrating blockchain technology with crypto assets.
2: Proof of Work (PoW) is one of the consensus algorithms that allows crypto assets to be mined. It allows the transaction and sending of crypto assets, starting with Bitcoin, to be correctly recorded on the blockchain through calculations and verification work. This calculation and verification work is called "mining," and those who carry it out are called "miners." PoW is the process in which agreement is reached that the data is correct between the miners through mining.
■About Brilliantcrypto, Inc.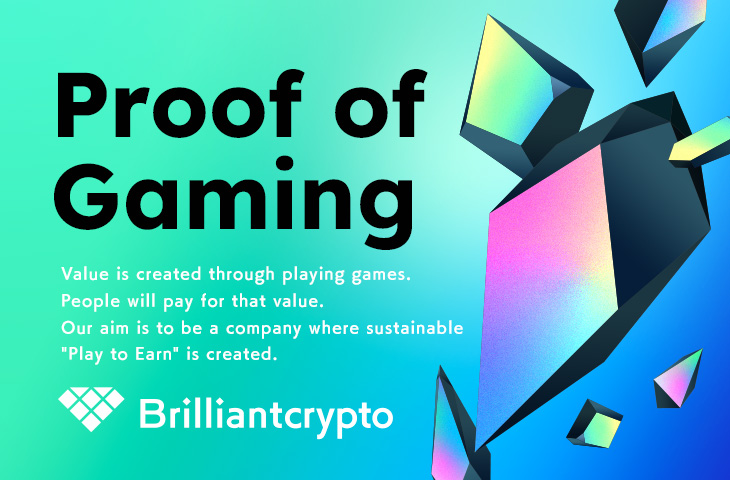 Brilliantcrypto was established in November 2022 as a wholly owned subsidiary by COLOPL, Inc. to carry out GameFi projects using blockchain technology. It was established to take on the challenges of blockchain gaming, and create games that truly shine and stand out. Using both blockchain technology, and the bountiful knowledge gained through the COLOPL group's many years creating video games, we will create new value on a global scale.
Company Name: Brilliantcrypto, Inc.
Headquarters: Tokyo, Minato City, Akasaka 9-7-2, 5F & 6F Midtown East
Founded: 2022/11/09
Executive Director: Naruatsu Baba
<Point of Contact regardings inquiries from the media on this release>
Brilliantcrypto PR Representative: Hugo Church, Naoki Nose, Yasuhiro Noguchi
Mail:press.contact@brilliantcrypto.net