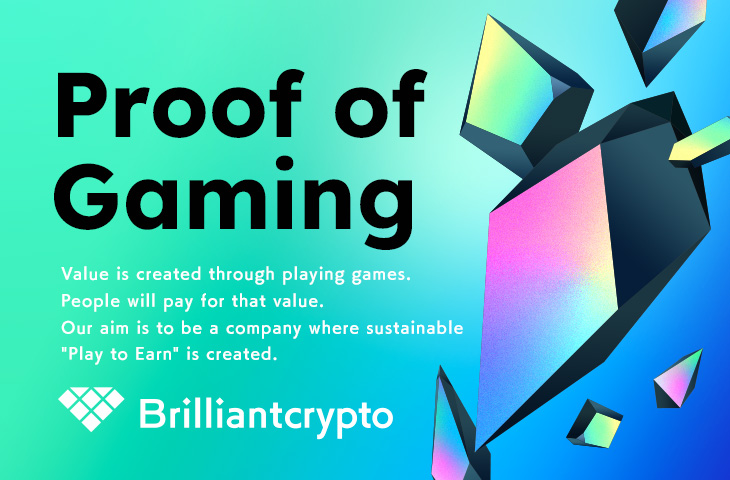 "Play-to-Earn." That is the dream-like slogan for GameFi, a Web3 service that enables players to earn cryptocurrency while playing games.
However, many people doubt the sustainability of GameFi and its Ponzi scheme-like structure. In fact, many of the blockchain games that have appeared so far have seen user numbers plummet since the passage of the initial boom, making them games where users cannot earn even if they play them.
The reason that GameFi has not been able to maintain sustainability so far is that it has not created any value through playing games. Whether players walked, or combined NFT items, they were never creating any useful value anywhere in the world.
Amidst this, there is a company that is working to solve the essential issues of blockchain games and taking on the challenge of creating new value. That company is COLOPL, a major Japanese game developer.
But what is "Proof of Gaming"—the concept that COLOPL is using in its attempt to make play-to-earn gaming sustainable?
We asked Naruatsu Baba—founder and chairman of COLOPL, Inc.—about Proof of Gaming and making blockchain games sustainable.
Contents
About COLOPL's "Proof of Gaming" concept: a non-ponzi, bitcoin-like project
Delivering sustainable blockchain games from COLOPL to the world
COLOPL's first blockchain game to launch in beta this spring; a message to fans and readers
About COLOPL's "Proof of Gaming" concept: a non-ponzi,bitcoin-like project
Chairman and Chief Creator of COLOPL, Inc.
CEO of Brilliantcrypto, Inc.Naruatsu Baba.
(At his request, we have used an avatar instead of an actual photograph.)
COLOPL is a game development company. After starting out with "Colony Life," the world's first location-based game featuring mobile phone GPS, we have gone on to develop a range of mobile titles including "Shironeko Project," "Shironeko Tennis," and "Quiz RPG: The World of Mystic Wiz."
As for blockchain games, we currently have a team of around 20 people working on planning and development. Later on, this business will be transferred to our subsidiary, Brilliantcrypto.
As the founder of COLOPL, I was president for around 14 years, and have been serving as chairman since the end of 2021. Currently I also have the role of Chief Creator, performing creative checks on new titles.
I'm also behind the planning of our blockchain games, so I am also working to drive this business forward as project manager. I also serve as president and CEO of our subsidiary, Brilliantcrypto.
— As a company which has released so many game titles already, could you tell us what you think about next-generation technology such as blockchain and NFTs?
Since the beginning of the Bitcoin era, I have been paying attention to blockchain mechanisms. The reason is that I was very interested in the revolutionary idea of creating a digital currency by combining existing technologies.
Later, Ethereum appeared, making it possible to use smart contracts that implement programming code as well as conduct ledger-based value transactions.
This also made it possible to exchange NFTs and utilize tokens. Around this time, CryptoKitties—a kind of digitally created game in which cats are "crossed" with other cats—appeared, and it became a hot topic around the world.
I've been watching the world change as a result of blockchain technology for a long time. COLOPL was also considering making a game that utilized blockchain technology, but blockchain games involving tokens are very challenging from a legal perspective, and we were initially unable to take that first step.
Also, I think it was difficult at that time for blockchain games to reach general users. The catalyst for changing this situation was the appearance of STEPN.
The concept was that "you get money for walking," so I was surprised to see that people who don't usually play games were playing STEPN. I felt that the idea that you can make money by playing games had the potential to become a new gaming paradigm in the future.
But blockchain games like STEPN do have elements that are reminiscent of a Ponzi scheme. Strictly speaking, it was not a fraudulent game, or a Ponzi scheme in the true sense, but it was a kind of gray area, which made it difficult for listed companies like COLOPL to get involved in a similar way.
So, I started thinking about how to create a blockchain game that was not Ponzi-like. After around two weeks of trial and error, I was able to come up with a mechanism that was not like a Ponzi scheme.
We consolidated that idea, and are currently planning and developing a blockchain game based on it.
— What kind of mechanism allows a blockchain game to not be Ponzi-like?
Unfortunately, I can't tell you the details yet because we are still in the planning and development stage. But to put it simply, I think it is exactly like the mechanism behind Bitcoin.
Bitcoin repeatedly performs brute-force calculations to obtain a certain hash value called Proof of Work (PoW) when adding blocks.
Computers with massive computing power consume enormous amounts of power, while competing all over the world to perform these essentially useless calculations. As a result of these calculations, though, the Bitcoin market is maintained in a liquid and secure state, and its value as a currency has been enhanced.
We hope to incorporate such a mechanism into our blockchain games. In other words, the part that benefits in terms of value is outside the game, and the means of creating that value is the game itself.
Conventional blockchain game users play games solely for their own benefit, and do not provide any value to others. This is not sustainable, because it does not create any new value other than the price paid for participation in the game itself.
Conventional blockchain games are structured in such a way that the more money is collected from users, the easier it is for first-movers to make a profit. But no matter how you handle tokens within the confines of the in-game economy, the total value is not increasing, so in the end it will still be something akin to a Ponzi scheme.
That's why I thought up the Proof of Gaming concept, which combines gaming elements with this value-creation aspect.
— What will you do with Proof of Gaming?
With Proof of Gaming, we plan to do things that have not yet been done in the metaverse.
In the future, the metaverse is expected to permeate all aspects of our lives. The metaverse is a virtual world created using 3D technology.
More and more things that can be done in the real world are taking place in the metaverse. For example, you will be able to hold and attend events, go shopping, buy and sell shops and buildings.
However, there are some things that exist in the real world but have not yet been brought to the metaverse. We plan to realize this with Proof of Gaming.
While I can't give you any specific details about Proof of Gaming yet, I can tell you that as a game development company we are serious about making a top quality blockchain game—the likes of which has never been seen before.
When it comes to GameFi, there's always been the opinion that if a game is entertaining, then it will be sustainable. But that doesn't sit right with me for two reasons.
The first reason is that it is very difficult to make an entertaining game in the first place.
If you can make an entertaining game, it will be easier for the game company to develop it if they don't go out of their way to use blockchain technology or create a complicated mechanism involving tokens, and it will be more enjoyable for the users that way.
The second reason is that, if a game is fun, it will attract a lot of people. If on top of that those people can receive money for playing, then the system will collapse.
Let's take Disneyland as an example, Disneyland is an interesting and entertaining theme park. There are people who would want to go there even if they had to pay 10,000 or even 20,000 yen. But if you then say, "If you come to Disneyland, we'll give you 20,000 yen!" then everyone will want to go. The park will then be too overcrowded, and you won't be able to enjoy it anymore. The park is going to go bankrupt.
In other words, blockchain games cannot be made sustainable by being entertaining alone.
So, we came up with a mechanism that would create value in the metaverse, with Proof of Gaming as a means of achieving it. Value is created elsewhere, and the payment for that value is used as remuneration for Proof of Gaming.
We believe that this approach will enable sustainable GameFi. Of course, everything may not go as planned. I think that there are many things that we won't know unless we give it a try.
But if play-to-earn can truly be achieved, then surely many users will be delighted. COLOPL will create new value using the power of blockchain technology and games.
Delivering sustainable blockchain games from COLOPL to the world
COLOPL is a company with a strong image of creating mobile games. For that reason, we want to develop a separate brand image when it comes to blockchain games, so we decided to establish Brilliantcrypto as a subsidiary.
Additionally, in terms of recruitment, we thought it would be easier for candidates to apply for a position specializing in blockchain games if the two organizations were separated.
Some staff members will be transferred from COLOPL on secondment with the launch of Brilliantcrypto.
— Please tell us in detail why you set the goal of "Sustainable Play-to-Earn," as detailed in the "Our Aim" section of your website.
Since we are aiming for sustainable GameFi through Proof of Gaming, we call it"Sustainable Play-to-Earn."
Traditional blockchain games have a strong image of being Ponzi-like. As a result, many people who join them as players may feel there is a risk of the game going bankrupt before they're able to make any money.
That is why Brilliantcrypto's GameFi aims for sustainable play-to-earn—to set it apart from conventional Ponzi-like GameFi.
— Are there any similarities or differences between blockchain game development(including GameFi) and COLOPL's previous game development efforts, or points that you feel are difficult or are struggling with?
We have many years of experience and expertise in actual game development, so we are proceeding without any major problems.
One of the difficult points is that we have to deal with legal, tax, and auditing issues which we wouldn't have to deal with in traditional game development. There are no other examples of Japanese game companies that have made a full-scale entry into the blockchain games sector, so this is a very difficult part to tackle.
We are checking carefully with various parties during the planning and development process as to whether there are any legal or tax problems in the issuance and operation of tokens, or whether there will be any problems with audits as we are a listed company.
We also plan to release our blockchain games globally from the very beginning. This is because blockchain tokens allow people all around the world to exchange value with each other. That's why we are taking various steps in preparation for the release such as creating documents in English, so that customers can enjoy GameFi titles developed by COLOPL not only in Japan, but all around the world.
COLOPL's first blockchain game to launch in beta this spring; a message to fans and readers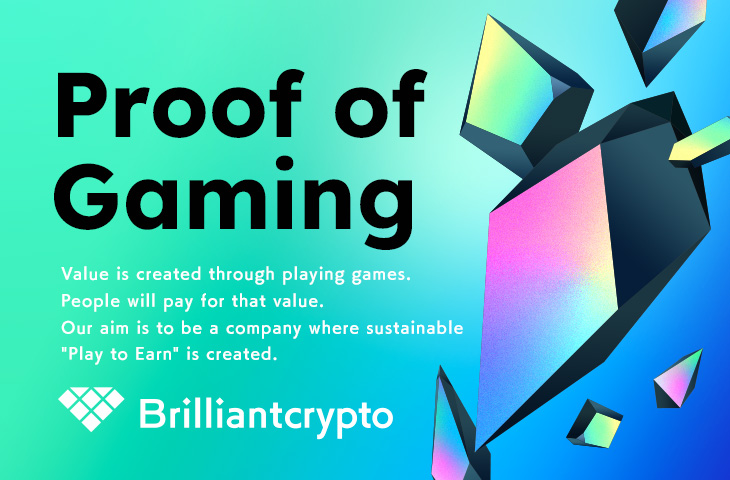 Our desire is to release a beta version around April or May 2023. With blockchain games, it is imperative to develop a gaming community before release. We will therefore be providing an environment where you can experience the game before its official launch.
After the release of the beta version, we would ideally see about 3 phases of updates before finally releasing the official version around the second half of 2023 to the first half of 2024.
In reality, the game itself has already been developed to a certain extent. What remains is some cosmetic changes and a few other small adjustments.
— Finally, do you have anything to say to our readers?
The GameFi developed by Brilliantcrypto will be a new initiative in the world of blockchain games, so please do give it a try when the beta version is released.
We will also proceed with planning and development so that we can properly convey COLOPL's vision for "Proof of Gaming" and "Sustainable Play-To-Earn" to the world. We hope you will look forward to our future efforts.
A beta version of COLOPL's new GameFi title is expected to be available around April–May 2023. Please look forward to it!
References:
https://meta-bank.jp/theme/colopl/?nsl_bypass_cache=7137c1d4fcfeb362db05714da039559f#